To begin with, let's first define what an Event Medical Service is and then we will see what are the steps involved in selecting an event Medical Service.
Event Medical Services (EMS) is a service offered by a qualified physician that offers the required medical care before the patient is being admitted to the hospital. They offer stabilization for major illnesses and injuries, as well as transportation to definitive care.EMS physicians provide emergency medical care to individuals who require it urgently, as well as ensure that they receive proper follow-up care following their visit. They are capable of treating minor injuries, diseases, and even more serious disorders such as heat exhaustion and dehydration.Event Medical Services (EMS) are medical facilities that provide treatment within 48 hours of emergency situations. An EMS can usually be identified from their ambulance-type vehicle and its staff members who are equipped with the appropriate equipment and medications. They have the ability to offer a variety of treatments, including but not limited to: oxygen therapy, intravenous fluids, CPR, defibrillation, medication administration, and wound care. Their goal is to get patients to the hospital sooner, thus decreasing the chances of further complications and death. They are often called upon to help patients with cardiac emergencies, trauma, strokes, falls, burns, seizures, diabetic emergencies, and mental health issues.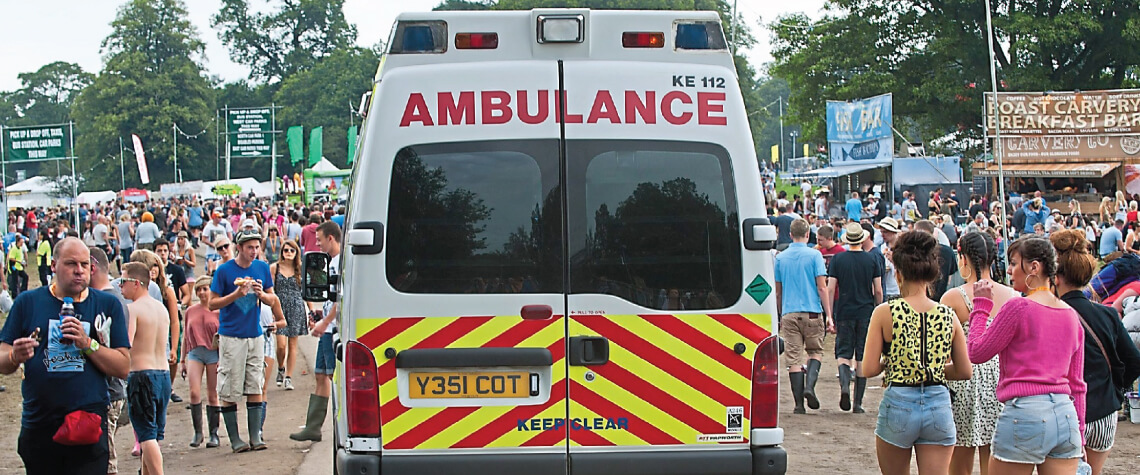 The benefits of EMS include:
1.Patients' safety is ensured by EMS professionals who have special training and equipment. Defibrillators, oxygen tanks, first-aid kits, and other supplies are carried by them in the event of emergency. The majority of EMS staff are highly skilled and well-trained in emergency situations. They know how to respond and act quickly in the event of a tragedy to save lives.
2. They offer more privacy and security of the patient hence increasing convenience for them.
3. They provide treatment at any time of the day or even at night.
4. Emergency medical services are not just limited to those who have been injured. In fact, EMS personnel frequently interact with groups of patients to ensure that everyone gets the best care possible. Children's hospitals, for example, have paediatricians and nurses who are prepared to deal with crises. Stroke victims, heart attack victims, and diabetic ketoacidosis patients are among such examples.
5. In certain cities, EMS providers are required to have particular credentials. This ensures the safety of the patient. They can practise medicine under the supervision of a doctor with these credentials. They can also write prescriptions and do out specific treatments.
A hospital or a clinic works closely with an EMS provider to evaluate how long it will take to transfer patients to the institution. They also take traffic patterns and meteorological variables into account. To transport patients to the nearest hospital, most providers use helicopters, ambulances, or both.
Let's move on to the steps that should be taken into consideration while choosing Event Medical Services:
1. Choose your strain
The first step in choosing a service provider is to choose your preferred strain.This can be done through either selecting strains that have been tested by the company or finding out what strains they offer. Some companies may provide specific strains that meet their clients' needs.
You should consider what sort of services they offer. Make sure that the company focuses on quality products and treatment rather than just profit.Once you've chosen your strain, discuss the terms and conditions of your contract with the company. If you're unsure about anything, don't hesitate to ask questions from them.
2. Select your dispensary
After deciding on your strain, you should select a dispensary. There are many different ways to find dispensaries in your area. You can look online, talk to friends who use dispensaries, or even call your local health department.Make sure that the dispensary has clean, safe, and well-lit areas. Ask if the company offers any discounts for veterans or seniors. Also, ask about any other additional special offers given by them.
3. Select your treatment plan
Next, you'll need to decide on your treatment plan. Treatment plans are designed to help patients manage symptoms associated with chronic pain or other ailments. Most treatment plans include both medication and counselling. Check if the company provides counselling sessions and if they offer discount programs for senior citizens or veterans.
4. Finding out who's reputable
It is always best to visit websites online or find references from other people. Look for companies that have been around long enough to gain respectability and credibility. A reputable provider should have a strong reputation, proven track record, professional staff, and customer-focused approach.You can check reviews on the company before engaging with them. Read through their testimonials posted by them online from customers or clients. Take time to ask questions directly at the front desk (or via email) regarding the experience that they will offer to us. Inquire in detail about experience, training, and qualifications that they will be serving to us.
5. Quality matters
Ask questions about the company's business practices, including how they handle product quality control, security, and safety. This is a prominent aspect to consider and should never be neglected.
6. Cost
How to determine the cost? Each plan has different levels that determine what percentage of income you will spend and what amount will be on insurance. Have a detailed conversation with them as to how much total cost will be incurred and how can you pay to them.
When selecting event medical services, make sure you go with a reputable and dependable company that has plenty of expertise dealing with emergency medical situations. In any form of emergency, an experienced medical service provider can provide high-quality, on-time medical care to someone in trouble.